I feel blessed to be able to do what I love for a living and to help women achieve their goals of motherhood.  To be able to hear a woman say "I'm pregnant!" after years of trying to conceive…there is nothing more heart-warming and rewarding than that.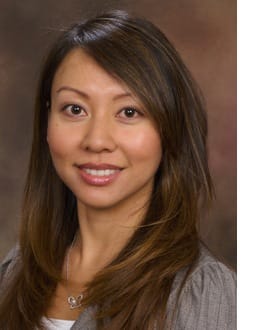 I didn't always believe in Chinese Medicine.  My great-grandfather was a Chinese herbalist who exported Chinese herbs from China to various countries throughout Southeast Asia.  I grew up smelling these bitter herbs cooking in the house but never put much thought into them. It wasn't until I reached my teenage years and suffered from irregular menstruation and eventually amenorrhea.  I was diagnosed with PCOS (Polycystic Ovarian Syndrome) at 19 and the only solution my OB/GYN had was to place me on birth control pills. She also stated I would have difficulty conceiving in the future. That was a huge wake up call for me; I knew there had to be something out there that could help me.  Thankfully my aunt introduced me to acupuncture. Many acupuncture sessions later, I'm happy to say my cycle is now regulated and I was able to kick PCOS to the curb!  
After my experience with Chinese Medicine, I knew I had to study this medicine and help other women suffering from reproductive disorders.  I felt it was my calling to educate women and let them know that they don't have to suffer from PCOS, endometriosis, painful periods, or infertility because Chinese Medicine can help!   
I studied at the Pacific College of Oriental Medicine in San Diego and Chengdu University of Traditional Chinese Medicine in Chengdu, China.   After graduation, I worked as an acupuncturist at the Reproductive Fertility Center with Dr. James Lin, MD in Irvine, CA, where I was able to see firsthand how acupuncture benefited patients going through assisted reproductive technology (ART) treatments such as IVF and IUI.  
Here are my credentials:
I am a certified practitioner of Practically Fertile®
I am licensed to practice acupuncture in North Carolina and California
I am board-certified in Oriental Medicine (acupuncture & Chinese Herbology) by the National Certification Commission for Acupuncture & Oriental Medicine (NCCAOM)
Here are some fun facts about me so you can get to know me better:
I'm not a fan of the gym but I looove dancing and Zumba!  I get a little too enthusiastic in Zumba class and almost threw my hip out once. Lol.
 I live to travel and have logged at least hundreds of hours flying, however I have aviophobia.  I'm a nervous wreck whenever I fly. 
I've been trying to save the Rainforest since I was 10.
I'm scared of, but yet obsessed with, true crime docuseries….FBI Files, El Chapo, Forensic Files…
Reading is my escape.  I've been an avid reader since I was a kid.