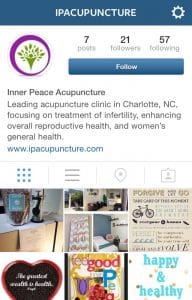 Happy New Year everyone! Here is what's happening at Inner Peace Acupuncture & Wellness.
1.  I finally joined instagram! Below is the link to follow me
http://instagram.com/ipacupuncture
2.  Our new partner Ola Oncology & Holistic Healing Spa will be sharing office space with us for a little while. One of the exciting perks of this partnership is that I get to indulge in my skincare obsession. Ola carries a full line of skincare products that are all organic, vegan, paraben-free, hypoallergenic, and manufactured in an FDA approved facility. This means the products are perfect for those trying to conceive and those concerned about product safety during pregnancy! For more information, here is the website http://www.olaoncologyspa.com. Take my word for it. These products are amazing.
3.  Ilia, our Patient Care Coordinator will start producing two-minute video segments featuring me to post on You Tube J. I will be sharing many tips on how to improve your fertility potential including what to eat, what yoga poses to do, and when to have sex! This is another way for me to share my knowledge and help others. So stay tuned for more information on that.
To me, a new year marks a new beginning with new people to meet, new adventures to enjoy and new memories to create. I am looking forward to all the positive pregnancy tests and new babies being born in 2015.