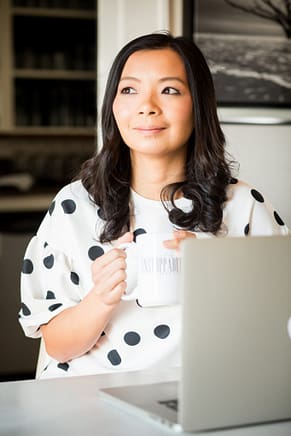 It makes me happy knowing that everyday, I help to create life and to make someone's dream of motherhood come true.
I made the decision to dedicate my whole career to helping women get pregnant because I once was in your shoes. And I know what it feels like when you're confused, and scared that you won't get to experience motherhood.
Here are my credentials:
I am the creator of Practically Fertile® Methodology, a step-by-step system that's the guiding principle for our treatment programs at Inner Peace Acupuncture for Women.
I am a Fellow of the American Board of Oriental Reproductive Medicine (ABORM) and a board-certified Fertility Acupuncture Specialist.
With additional training in Chinese herbology, I am also board-certified in Oriental Medicine (includes acupuncture & Chinese herbology) by the National Certification Commission for Acupuncture & Oriental Medicine (NCCAOM).
The decision to study Chinese medicine and acupuncture was a return to my roots: I was born in China, and my mother was a Chinese medicine doctor. (She now practices in Charlotte and helps out around the office.) Her work exposed me to the medicine from an early age. I remember drinking—shall we say "strong-smelling" herbs whenever I got sick, and despite the lousy smell, they always worked.
With a doctor in the family, I hadn't considered a career in Chinese medicine until I had to turn to acupuncture and herbology as an adult when I had trouble with my own health. I was diagnosed with polycystic ovarian syndrome (PCOS), and I didn't want to take birth control pills because that was a Band-Aid and not a solution. I also didn't understand much about the condition because my doctor at the time said "Can't do anything about it, just ride it out." Despite the struggles, Chinese medicine worked for me!
After that experience, I knew I'd found my mission to help others, especially women. I knew that I wanted to help them work through their challenges and to achieve their goals with less stress, anxiety, and heartache.
Which brings me to you.
To help you get to know me better, here are five fun facts about me:
I'm a Stitch Fix addict! My box of "Fix" arrives monthly and I usually keep everything!
I'll never say no to glass of Pinot Noir.
The first thing I do when I wake up is checking my phone for texts, emails, and Instagram notifications.  But doesn't everyone do this? ????
I'm obsessed with Downton Abbey. I've watched every episode three times. And I own four books about British Edwardian era.
When I was five, I got my head stuck in a cage at a zoo where brown bears were kept. (We'll talk about this one in person if we ever get the chance.)
I'm thrilled to have this opportunity to work with you. I know that together we'll get there by jumping over hurdles one by one. I don't believe in infertility. I believe that all women are essentially fertile and that you ultimately have the power to take action, take charge, and become pregnant.